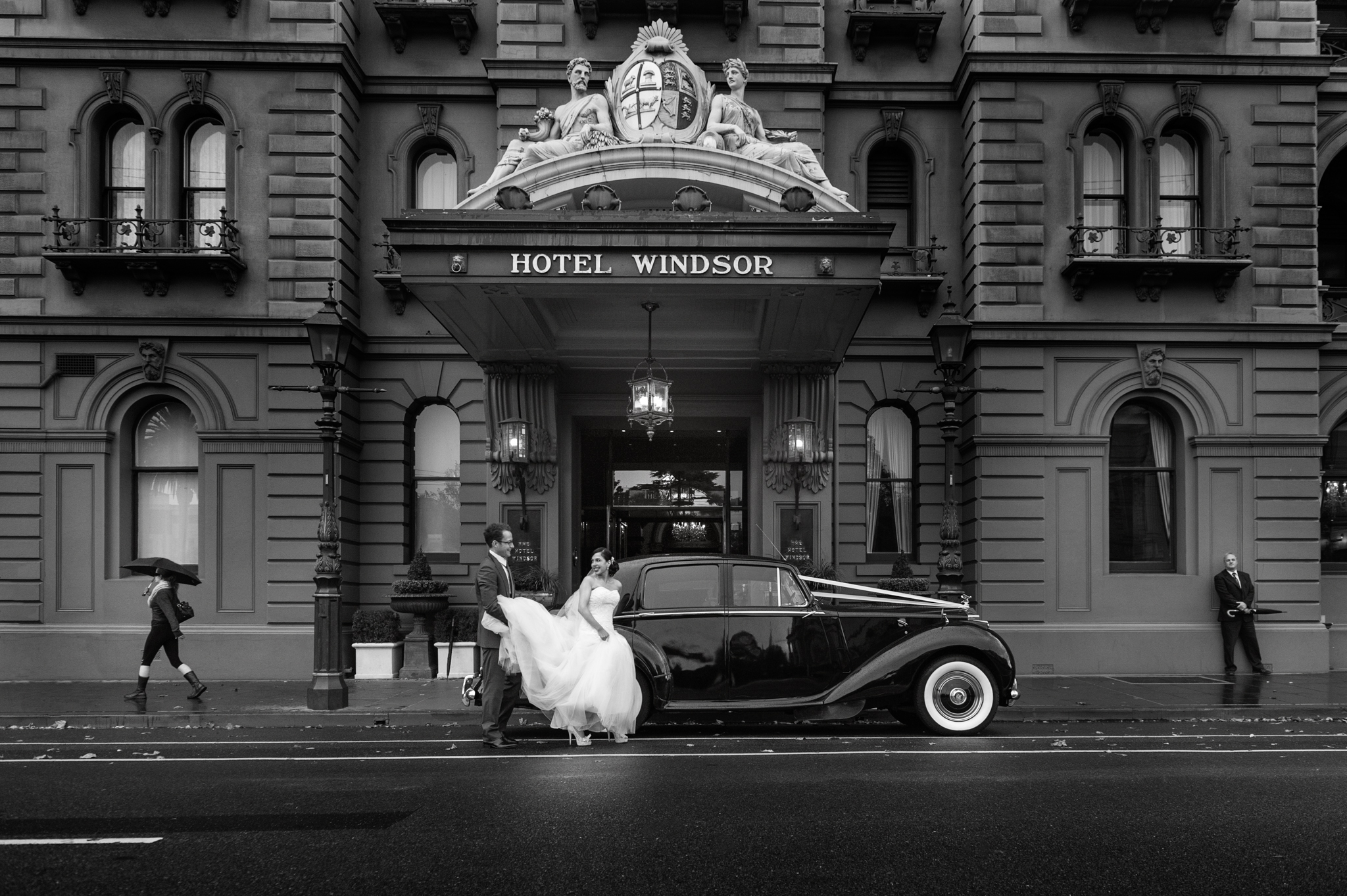 My Top 10 Wedding Photography Locations in Melbourne
As a photographer, I have had the privilege of capturing countless love stories through my lens. One of the most exciting aspects of wedding photography is discovering breathtaking locations that provide the perfect backdrop for couples to create lasting memories. Melbourne, with its rich history and stunning architecture, offers a plethora of picturesque spots for capturing beautiful wedding photographs. Here are my top 10 wedding photography locations in Melbourne to photograph couples
With its stunning Gothic Revival architecture, Melbourne University provides a unique and captivating backdrop for wedding photographs that are sure to stand out. The grand arches, majestic towers, and beautiful courtyards offer endless opportunities for capturing dramatic and artistic wedding photos.
Along with the classic images taken at the Old Quadrangle, there are few hidden gems that make for great, interesting photos. Included would be the Melbourne University Carpark, located beneath the university's South Lawn, is a unique and iconic location that has been featured in various films and TV shows.
The carpark is known for its distinctive Gothic Revival architecture, with grand arches, towering columns, and dramatic lighting that creates a moody and atmospheric setting. The carpark has been used as a filming location for several well-known productions. For example, it has appeared in the popular Australian TV series "Miss Fisher's Murder Mysteries", where it was transformed into a 1920s jazz club, adding a vintage and glamorous touch to the show.
The unique architectural features and historic ambiance of the carpark have also made it a popular location for fashion photoshoots, music videos, and other creative projects.
Pros: Unique Gothic Revival architecture with grand arches, towers, and courtyards. Provides a dramatic and artistic backdrop for photos. Its great wet weather plan
Cons: Limited access to some areas of the university. Requires permits for professional photography. Week days can be can be crowded with students and visitors.
Here are some stunning images that I have taken at Melbourne University.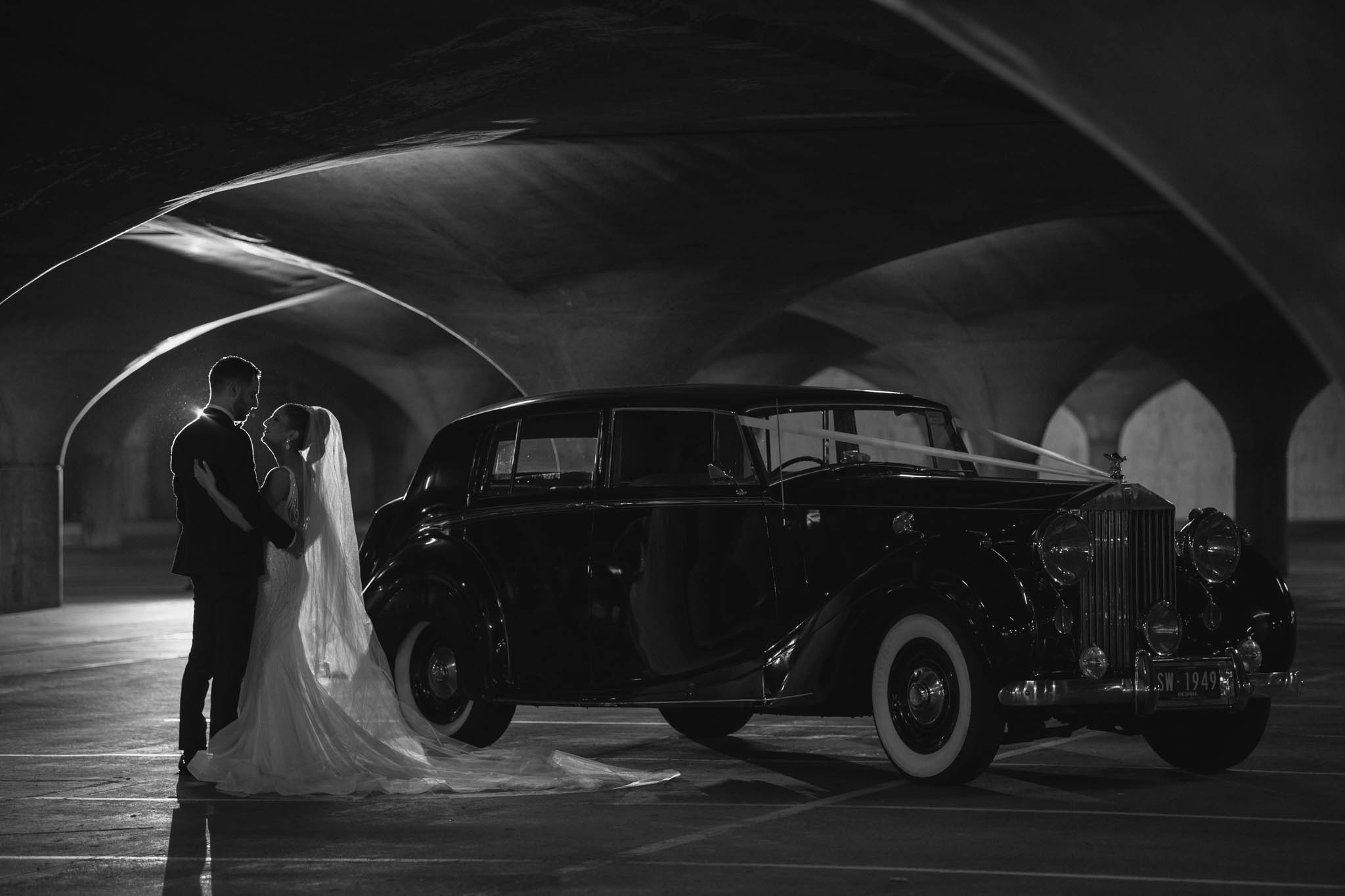 Located in the trendy suburb of Fitzroy, Fitzroy Town Hall is a classic Victorian-era building, built in 1873, exudes charm and elegance. Its ornate façade, and beautiful rendered walls provide a stunning backdrop for capturing romantic and sophisticated wedding photos.
The Fitzroy Town hall has fabulous set of stairs on the external of the building along with a great area to park the bridal car for any portraits couples may want with theirs transport
Pros: Classic Victorian-era architecture with a charming and elegant façade. Great weather option and shady on a hot summer afternoon.       
Cons: Can get very busy in the afternoon with other weddings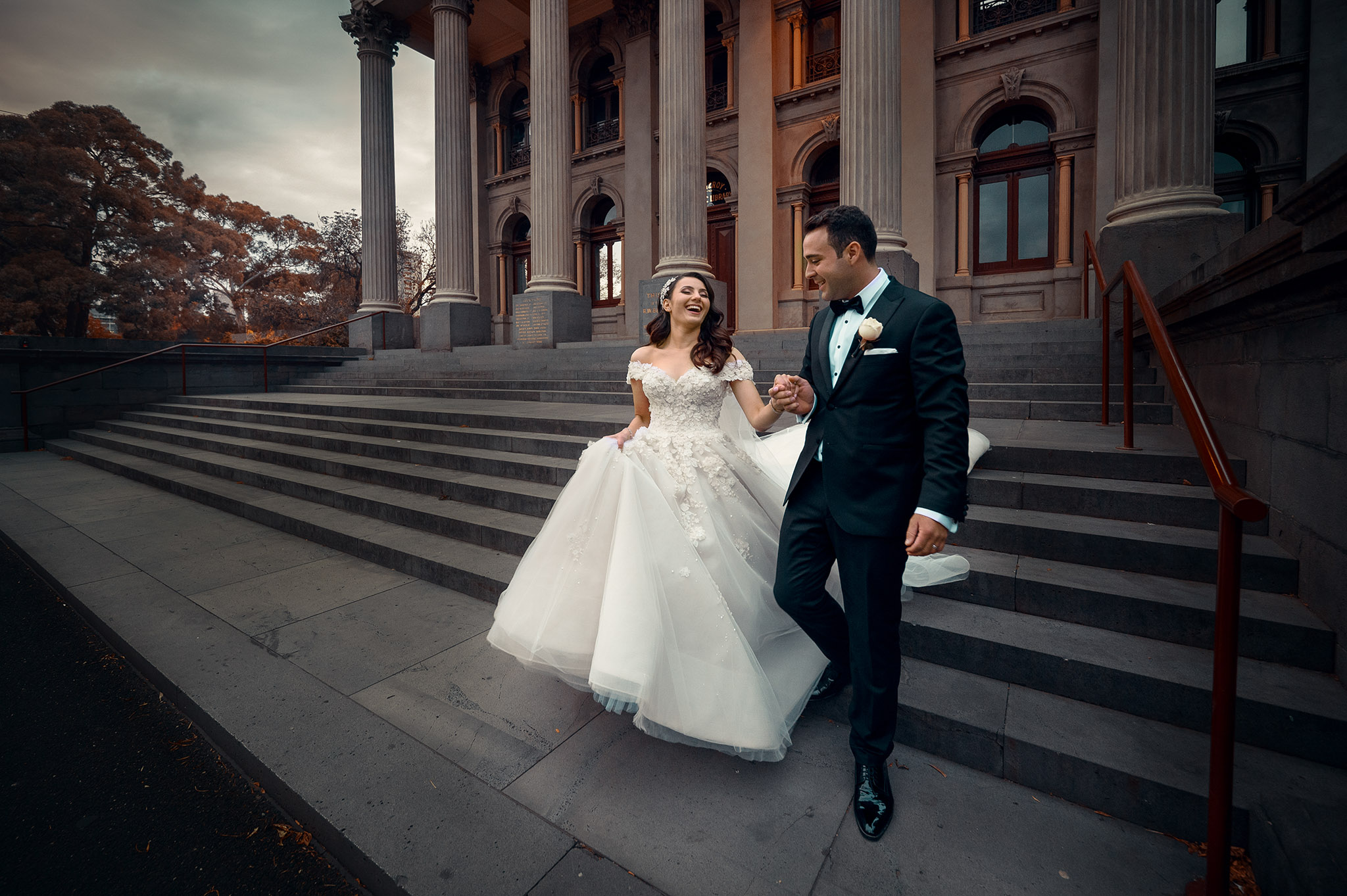 Nestled in the heart of the city, Carlton Gardens is a lush and expansive parkland that boasts magnificent gardens, fountains, and historical landmarks. The iconic Royal Exhibition Building, a UNESCO World Heritage site, stands tall in the background, making it an ideal location for capturing elegant and timeless wedding photos.
The history of the trees and plants in Carlton Gardens dates back to the mid-19th century when the gardens were originally designed by the renowned landscape architect Joseph Reed in 1856. The gardens were laid out in the Victorian-era style, featuring sweeping lawns, meandering paths, and carefully selected trees and plants.
One of the most iconic features of Carlton Gardens is the majestic English elms (Ulmus procera) that line the pathways and add a sense of grandeur to the landscape. These elms were planted in the late 19th century and have since grown into tall, stately trees with their characteristic vase-shaped crowns, providing a picturesque backdrop for photography.
The versatility of this amazing Melbourne locations is great if you are time poor between ceremony and reception as there is some much in one spot. Yes, you have the gardens, and the Royal Exhibition Building, but there also the modern architecture of the Melbourne Museum.
Pros: Lush gardens, fountains, and historical landmarks provide a beautiful and elegant backdrop. Versatility, the iconic Royal Exhibition Building adds grandeur to the photos.
Cons: Can be crowded, especially during peak times or events, which may limit photo opportunities.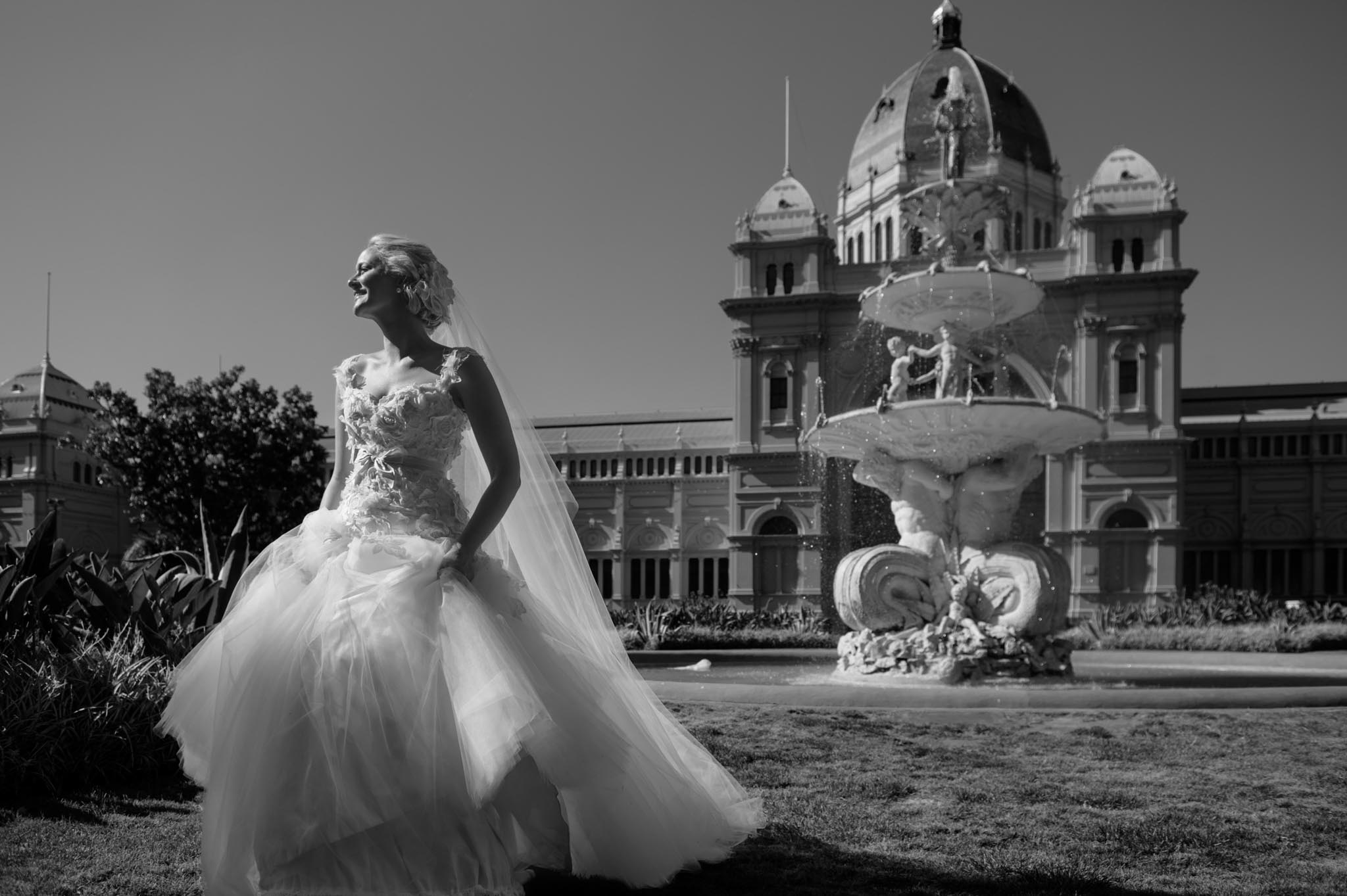 Melbourne Museum – The contemporary museum located in Carlton Gardens, and its unique architecture and picturesque surroundings can offer interesting opportunities for wedding photography.
The Melbourne Museum boasts modern and distinctive architecture, with its striking design featuring a combination of glass walls, steel structures, and bold geometric shapes. This unique and contemporary architecture can provide a modern and edgy backdrop for wedding photos, creating visually stunning and unique compositions.
Melbourne Museum is located in the beautiful Carlton Gardens, a UNESCO World Heritage site known for its lush greenery, ornamental lakes, and historic buildings.
The museum's outdoor surroundings can provide a picturesque and serene backdrop for wedding photos, with opportunities for capturing shots among trees, gardens, and water features. unique and visually appealing location for wedding photography, offering modern architecture, abundant natural light, scenic surroundings, and versatility in terms of backdrops.
Pro: Interesting modern architecture. Good wet weather option, close to the Royal Exhibition Building and Carlton Gardens
Cons: May be other visitors, tourists, or events taking place during the wedding photoshoot.
Royal Exhibition Building-
This majestic architectural gem is a true masterpiece with its grandiose design, intricate detailing, and stunning dome. Its historical significance and exquisite beauty make it a perfect location for capturing regal and opulent wedding photographs that are sure to stand the test of time.
Pros: Majestic and grandiose architecture with intricate detailing. Historical significance adds a unique and regal touch to the photos. It's close to the Museum and the Gardens.
Cons: Can't use inside.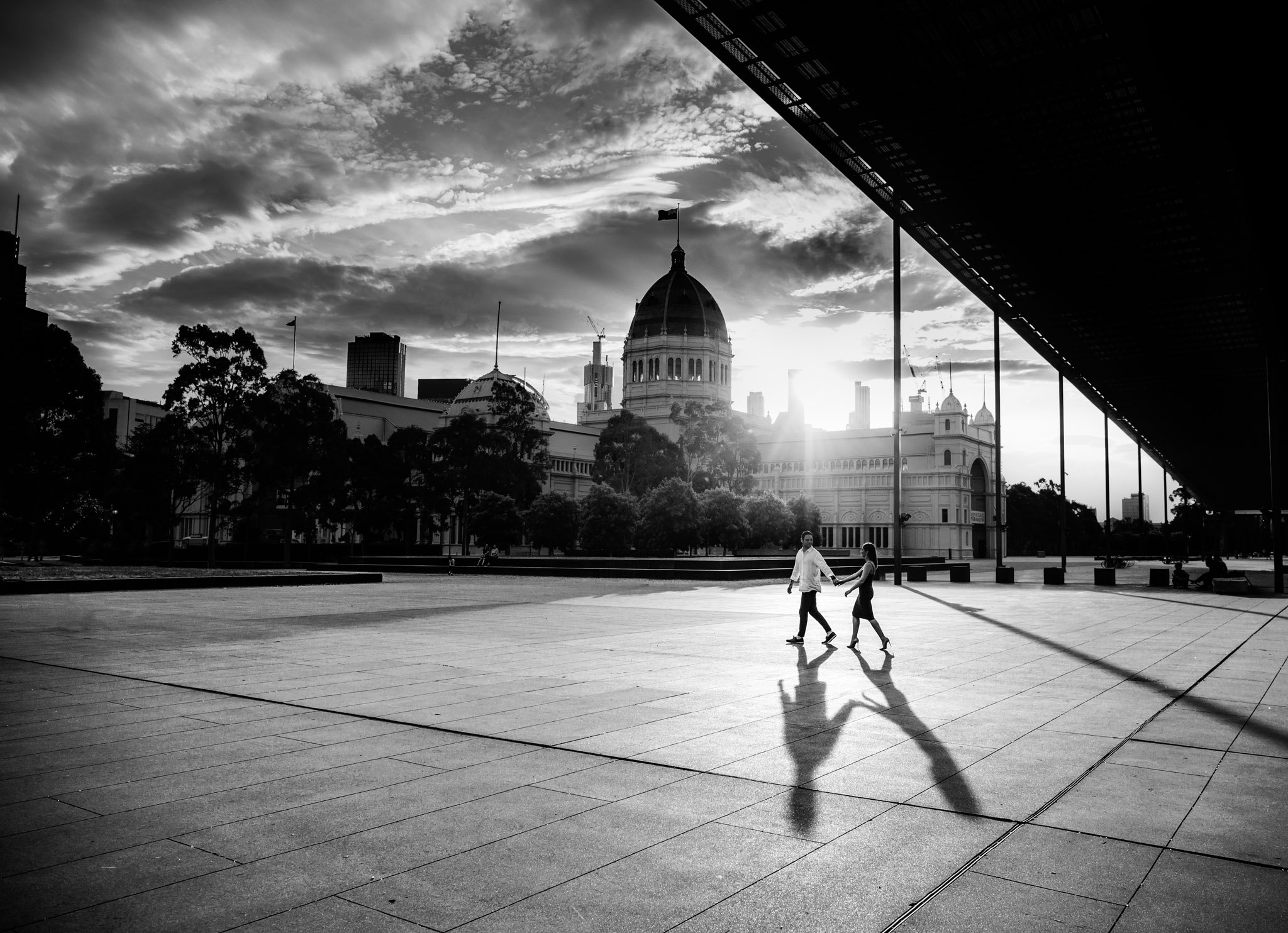 This stunning Victorian-era mansion located in Caulfield is a true architectural masterpiece. Its ornate interiors, intricate detailing, and rich history make it a perfect location for capturing luxurious and sophisticated wedding photos that exude grandeur and elegance.
Labassa Mansion, also known as Labassa House or simply Labassa, is a grand Victorian-era mansion located in Caulfield, a suburb of Melbourne, Australia.
Its well-preserved period architecture, lavish interiors, and grandiose settings make it a sought-after location for period dramas, mysteries, and other productions that require a historic and opulent backdrop.
Labassa Mansion has also been featured in other TV series, such as "The Sullivans", "The Doctor Blake Mysteries", and "Neighbours", among others. Its grand Victorian architecture and well-preserved period interiors have made it a popular location for productions that require a historic and sophisticated setting.
In addition to TV series, Labassa Mansion has also been used as a filming location for movies. For example, it was featured in the 2015 Australian film "The Dressmaker", starring Kate Winslet, where it portrayed the grand mansion of the film's main character. The mansion's ornate interiors and stunning gardens added to the film's visual appeal and contributed to the overall atmosphere of the story.
Pro: Location like no other. Luxurious and ornate interiors with rich historical significance. Exudes grandeur and elegance, providing a lavish backdrop for photos
Con: Bookings are essential and are one hour long
A hidden gem in the heart of the city, Fitzroy Gardens is one of the most historical gardens in Melbourne. With magnificent elms, water courses, extensive lawns and an abundance of space, the Fitzroy Gardens, without questions makes for an idyllic location any time of year and is worthy of the top 10 amazing locations for wedding photos in Melbourne.
Pros: Beautiful blend of natural beauty and historical landmarks. Serene ponds, gardens, and iconic features add a whimsical touch to the photos.
Cons: Can be crowded, and some areas may have restrictions on professional photography. Obviously weather dependent.       
As an iconic landmark of Melbourne, Parliament House is a location that exudes grandeur and elegance. Its grand façade, majestic steps, and beautiful interiors make it a perfect location for capturing classic and timeless wedding photographs that exude sophistication and grace.
Its distinctive facade offers a unique and visually appealing backdrop for wedding photography, with several interesting features that can be highlighted.
The intricate detailing and ornamentation on the facade, including ornate carvings, friezes, and columns, add to its grandeur and make it an impressive backdrop for wedding photography.
One of the most notable features of Parliament House's facade is its central portico, which features a grand entrance with a set of impressive steps leading up to it. The portico is supported by four massive Corinthian columns, which are adorned with intricate capitals and entablatures. This grand entrance and the imposing columns create a regal and majestic atmosphere, perfect for capturing stunning wedding photos.
Overall, Parliament House offers a visually appealing and unique backdrop for wedding photography. Its grand and imposing design, intricate detailing, and historic significance make it an iconic location that can help create memorable and stunning wedding photos.
Pros: Stately location with grand façade and majestic steps. Elegant interiors provide a classic backdrop for photos.
Cons: Restricted access to some areas of Parliament House. Can be busy with official events, activities and of late, protests.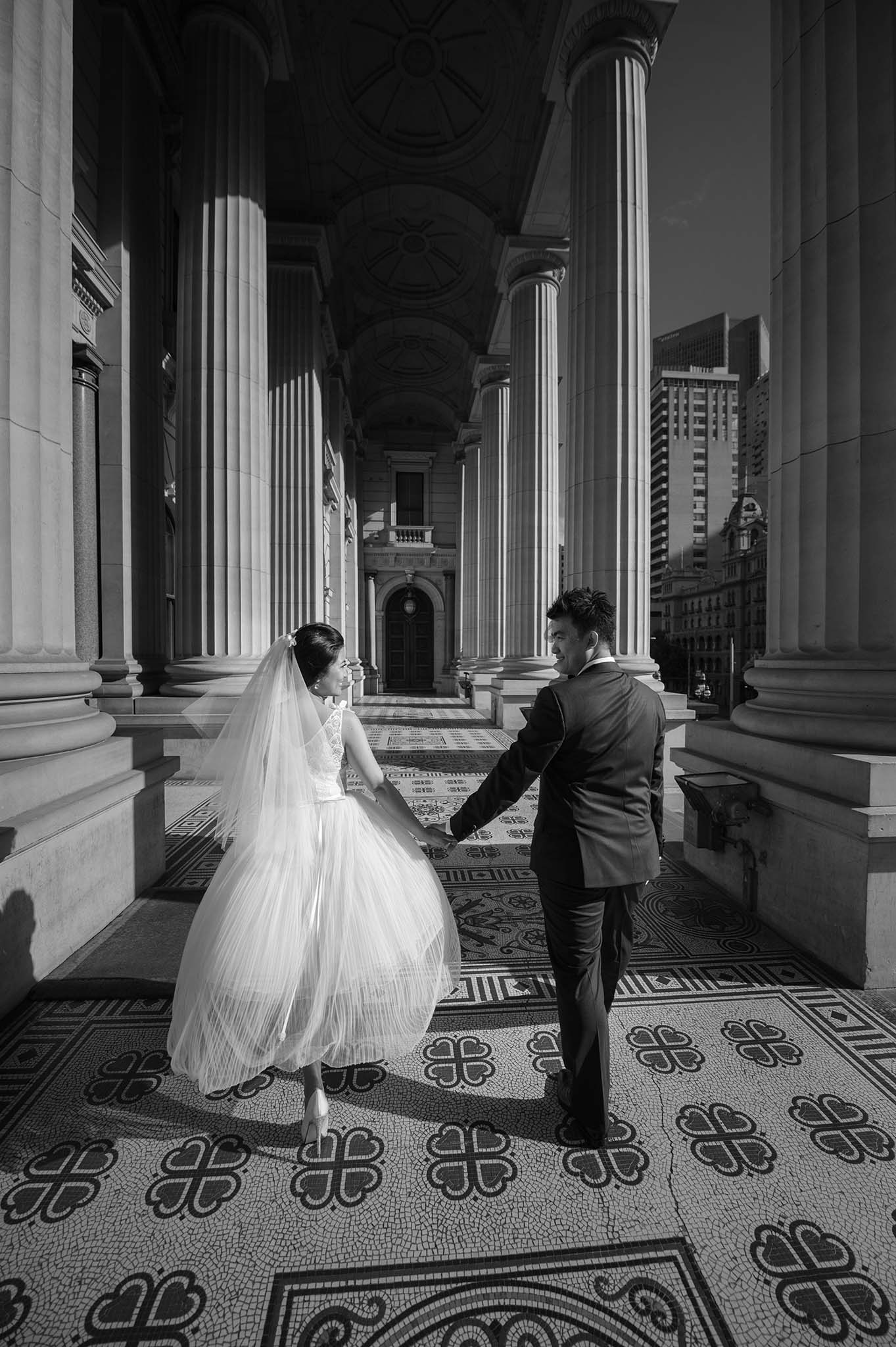 With incredible views of the city this amazing Melbourne location makes for quintessential Melbourne vibes. Right on the Yarra River, the Southbank Promenade has lots visual options
This bustling waterfront promenade offers a modern and urban backdrop for capturing contemporary and stylish wedding photographs.
South Bank Promenade has undergone significant development and transformation over the years. Originally, South Bank was a bustling industrial area with factories and wharves. However, in the 1980s, the area underwent a major revitalization project, transforming it into a vibrant cultural and recreational hub.
The redevelopment of South Bank Promenade included the creation of a stunning riverside promenade with lush gardens, pedestrian-friendly walkways, and world-class public art installations.
Today, with its stunning city skyline, sleek architecture, and vibrant atmosphere, South Bank Promenade provides ample opportunities for capturing chic and fashionable wedding photos.
Pros: Modern and urban backdrop with stunning city skyline and sleek architecture. Provides a contemporary and stylish setting for photos.
Cons: Can be busy and crowded, especially during peak times or events. Limited indoor options in case of rain or extreme weather.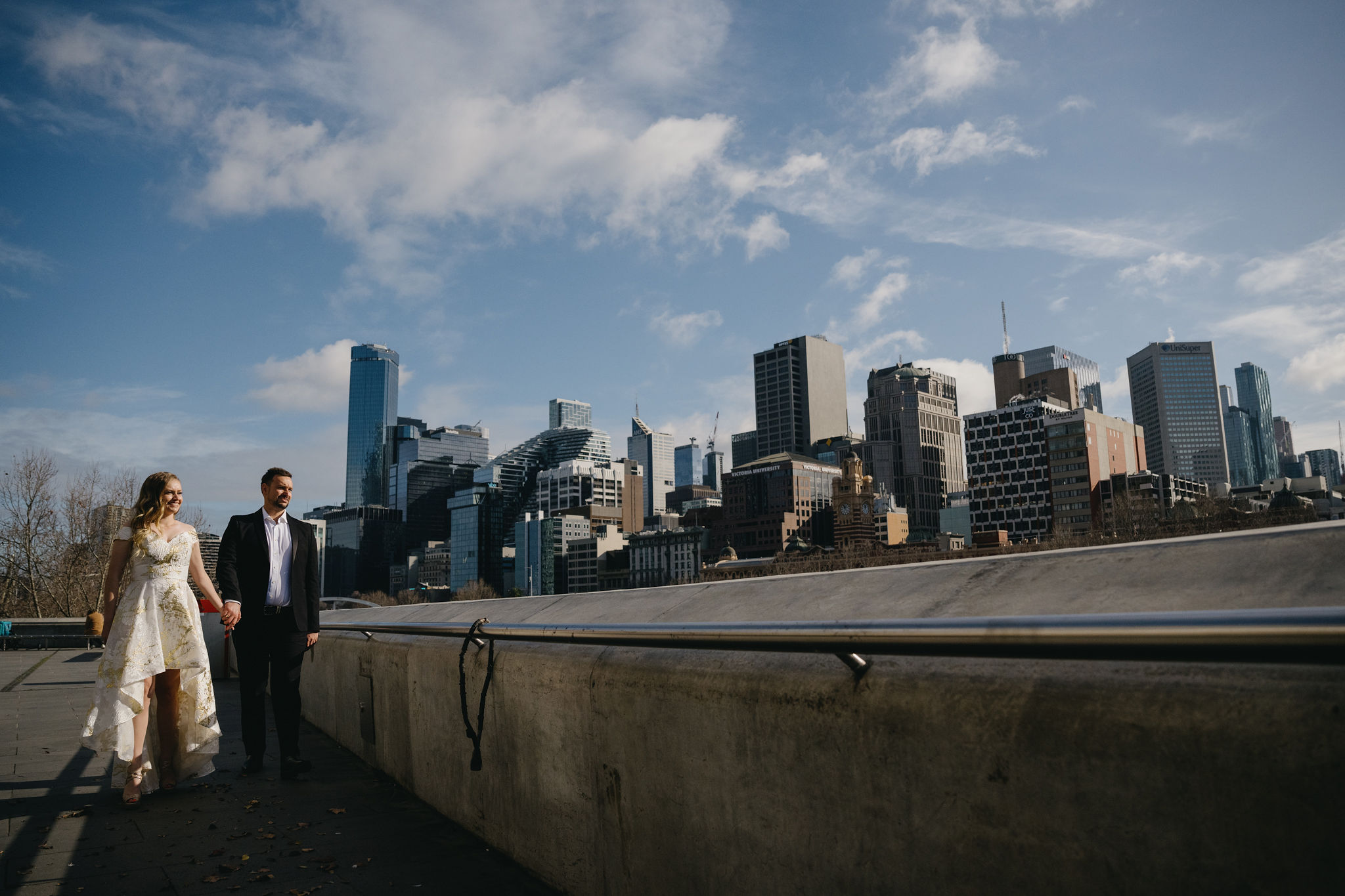 This historic hotel located in the heart of the city is a true epitome of luxury and opulence. Its grand Victorian-era architecture, ornate interiors, and breathtaking views of the city make it a perfect location for capturing glamorous and lavish wedding photos.
One of the standout features of the Windsor Hotel is its stunning grand staircase, which has a rich history and unique visual aspects that can make it a great location for wedding photography.
The grand staircase at the Windsor Hotel is a heritage-listed feature that dates back to the hotel's original construction in the late 19th century. The Windsor Hotel, also known as "The Grand Old Lady of Spring Street," was built in 1883 and has been an iconic landmark in Melbourne ever since.
The grand staircase, with its ornate design and exquisite craftsmanship, has witnessed countless weddings, special occasions, and historic events over the years.
Some of the visual aspects that make it a standout location for wedding photography include the staircase's classic design, with its sweeping curves, symmetrical lines, and rich wood tones, creates a sense of refined elegance and grandeur that can elevate the aesthetic of wedding photos.
At the Windsor Hotel is a visually stunning and historically significant location for wedding photography. Its ornate design, classic elegance, natural light, iconic backdrop, and versatility make it a standout feature that can add a touch of timeless charm and sophistication to wedding photos.
Collaborating with a skilled photographer who can capture the unique visual aspects and historical significance of the staircase can result in stunning and memorable wedding photos.
Pros: Historic hotel with Victorian-era architecture and ornate interiors. Offers a luxurious and opulent backdrop for glamorous photos. Can use the external façade at any time.
Cons: Limited access to the internal areas of the hotel unless wedding reception is located there.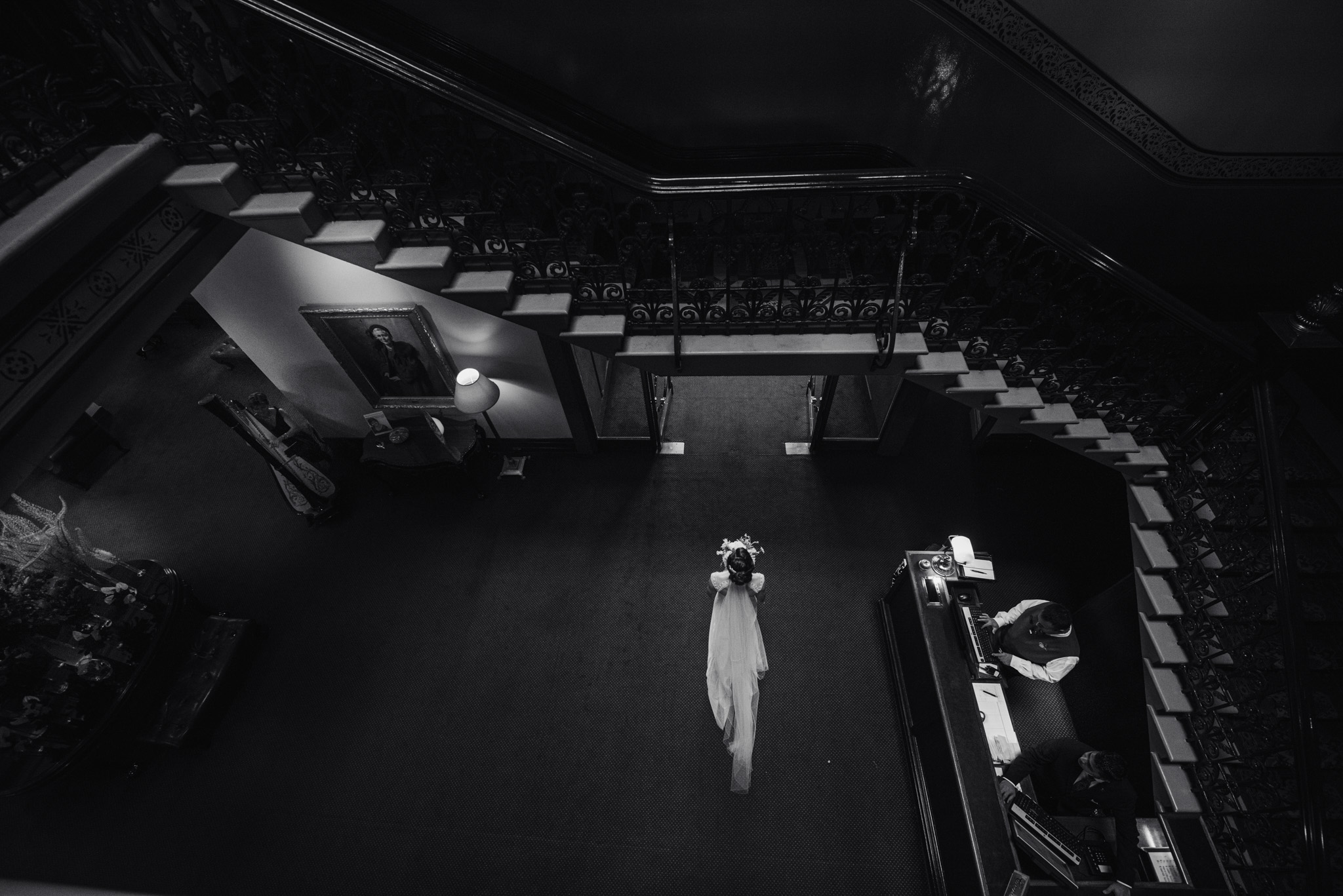 These colourful and iconic beach boxes located in Brighton are a fun and unique location for capturing vibrant and playful wedding photographs. With their distinct charm and picturesque location by the beach, they offer a delightful backdrop for capturing candid and romantic moments.
Pros: Colourful and iconic beach boxes provide a playful and vibrant backdrop for photos. Unique and fun location for candid shots.
Cons: Can be crowded with beachgoers and tourists. Very weather dependant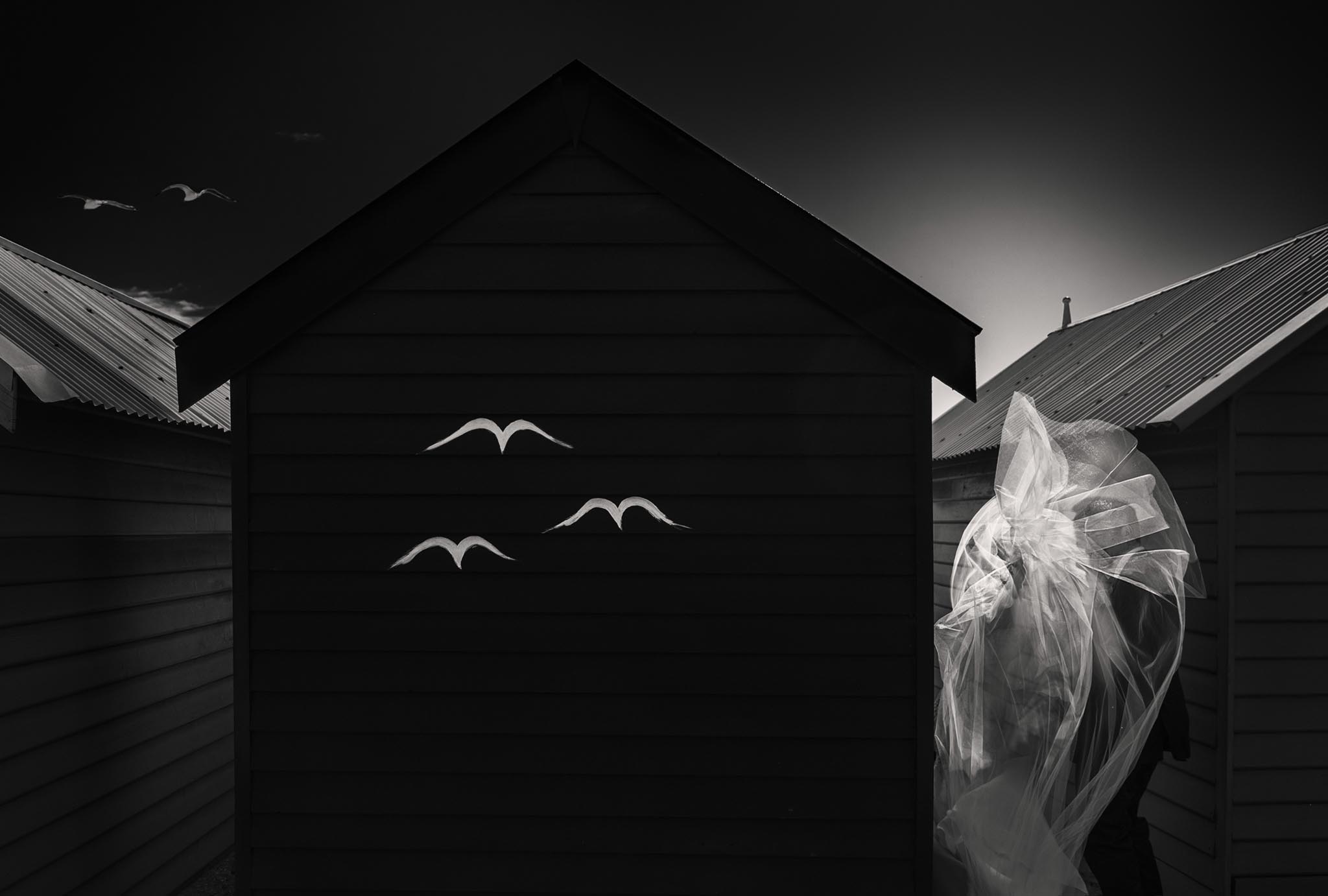 In conclusion, Melbourne offers an abundance of stunning locations for capturing memorable wedding photographs. From historical landmarks and grand architecture to lush gardens and vibrant urban settings, there is something for every couple's unique style and vision. As a photographer, I am always thrilled to explore these breathtaking locations and capture the love and joy of couples in such beautiful settings. With these top 10 locations, your wedding photos are sure to be picture perfect and cherished for a lifetime.
Be sure to check out  more of my wedding images here.
Getting married? Contact me today to see how we can create beautiful images for you on your wedding day.